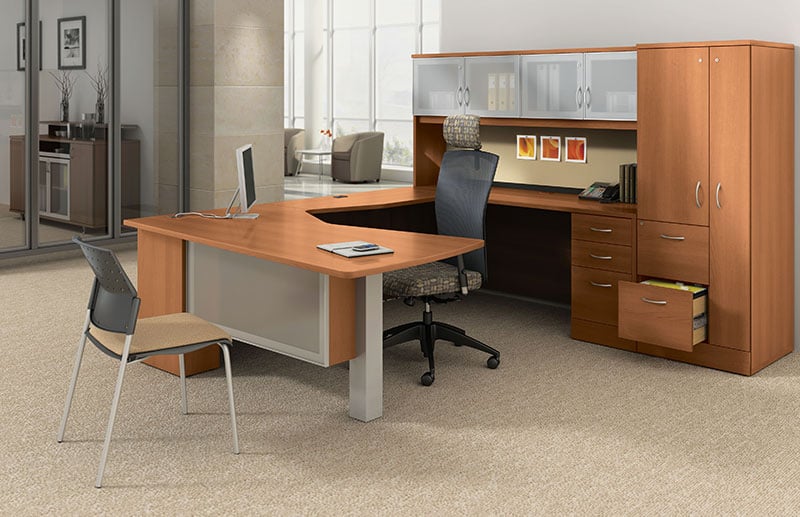 17 Feb

Office drive you nuts? Part 2

PART 2

If the way your office is set up makes you want to go crazy, take a fresh look at the design and functionality of your current furniture! If the furnishings used are not properly suited for the purpose, the employees or managers are often not as efficient either.

Our sales office had this same problem last year and here is how we tackled it. Last time we addressed our first two problems which were how to streamline and position our workstations in an effort to hide clutter, and what to do with our ugly binders that we need quick daily access to.

Today we will talk about the other two problem areas – conferencing & organization.

Problem #3: Conference area – Tight space

Solution- We ordered a small table that tucks slightly under one of the desks. This solution allows the table to become a meeting or lunch space while not taking over the area as a conference room. And, because of the way the desks are situated, people can still opt to sit at their desks and interact as a group when needed while some are at the table allowing for more seating with less disruption to individual workspaces.
Adding the small table back in helped create a cozy but functional solution that encourages interaction (which is a must in a family owned business.J)
Problem 4: Poor organization options
Solution- By using a broad furniture collection with over 5,000 pieces, we were able to achieve the variety of solutions we needed. For the variety of drawer styles we needed, we ordered lateral and regular file drawers, box style drawers in standard and wider sizes for a variety of smaller items. For paper needs, we ordered slotted collator shelves and pigeon-hole storage and we added enclosed shelving in storage cabinets and hutches.
Between all of these solutions, and adding in pops of color, we were happily and successfully able to create a better workspace overall. These days, we may still struggle with keeping organized but at least we have designated places to put items, which is a worthy start in that ongoing goal!
If you take a fresh look with your team at the way your business works and flows internally, and what your problem areas are, you may just find that the furnishings you have don't handle your needs as well as they could.
Perhaps it's time to do some research and start shopping. Collections like Crown's Zurich may be a perfect fit for your space and bring more efficiency as well as an updated look. And that just makes more sense, doesn't it?
AFTER THE REMODEL