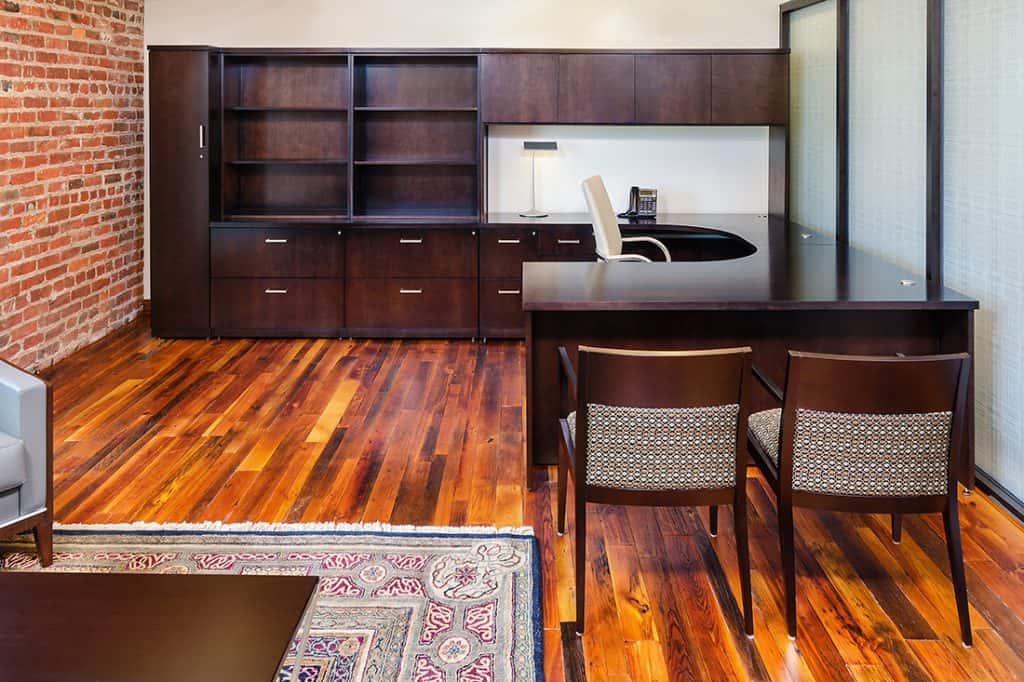 11 Feb

Office Drive You Nuts? Part 1

Does your office drive you nuts?…and what to do about it.

PART 1

If you have worked for any length of time, you have probably encountered some frustrations about the form and function of your office. Sure, many businesses have a good work flow model they follow but their furnishings are simply not keeping up with the (hopefully!) ever growing demands of your business.

The layout of an office is an important key to getting the most out of your workday. If the furnishings used are not properly suited for the purpose, the employee or manager is often not as efficient either.

Our sales office had this same problem last year.
BEFORE THE REMODEL
We had 4 people in a roughly 15×15 room with two doors and a window, and the need was to accommodate all of the purposes this room in a stylish manner. The room required 4 work areas, a small meeting table, and easily accessible space for Binders as well organizational slots for forms. We also needed various types of filing, Sound familiar?
When we started our remodeling plans last fall, we took to task each issue and worked to resolve it with a furniture-based solution, utilizing space planning tools to help rework our space to suit our work flow.
There were 4 main problems we tackled and here is how we solved them.
Problem #1: Messy desks
Solution – We ordered a Global Divide desk top panel system with transaction counter tops for two of the desks to create an attractive barrier from the front window while still encouraging collaborative workspaces that function well. It also added some design appeal with the sleek brushed silver framing and frosted panels.
Problem #2: Visible ugly binders
Solution-The bulk of the binders everyone needed access were removed from a wall where they were entirely visible to clientele looking in to the space. We transplanted the Binders to a tall storage cabinet in a less conspicuous place so that they were easily usable but behind doors. Then, we added closed hutches for two of the workspaces to allow those users to have access to specific things they needed overhead while still keeping items out of sight.
In part 2, we will address the remaining two pesky little issues we encountered in our space…adding back in a smaller conference table in an already tight space, and attacking our paper flow challenges with multi layered organization solutions.